Split decision over sheep industry scholarship
Outcross Media | Kim Woods | March 9, 2015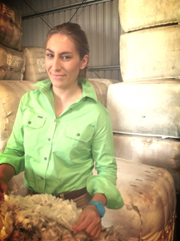 The calibre of young people coming through the Australian sheep and wool industry has resulted in joint winners of the prestigious Peter Westblade Scholarship for the first time.
Casey Annetts, of Wagga Wagga, and Jayden Harris, Mitchell, South Australia, were announced as the winners at the scholarship presentation in Wagga Wagga on March 4.
Scholarship co-ordinator Sally Martin said the outstanding calibre of the applicants made it difficult to split them.
Casey and Jayden will receive up to $10,000 each of cash and in-kind contributions during the next 12 months.
Casey, 22, is studying a Bachelor of Agricultural Business Management at Wagga Wagga and heard about the scholarship when industry professionals shared a link on social media.
"I will use the scholarship to become an ambassador for the progression of people in the sheep and wool industry, to encourage students and youth to gain experience for themselves,'' she said.
Jayden Harris, 22, is principal of the Brimanna Poll Merino stud, Yeelana, South Australia, selling around 60 rams a year at his on-property sale.
He runs 700 ewes and aims to produce dual purpose rams in the 19-21 micron range to give clients an opportunity to turn off wether lambs.
Jayden also works off-farm for a scanning business, and pregnancy scans more than 75,000 ewes across the Eyre Peninsula each year. He also offers micron testing and will soon offer eye muscle depth scanning.
"I would like to be exposed to a range of cutting edge technologies and practices that farmers and scientists are using to increase the rate of genetic gain,'' he said.
Now entering its fourth year, the scholarship provides practical skills training, mentoring and the establishment of industry networks.
Open to young people aged 18 to 30, the scholarship honours the late Peter Westblade, a Lockhart sheep producer passionate about breeding profitable sheep, and a supporter of young people interested in agriculture.
Ms Martin said a program would be developed to accommodate Casey and Jayden's needs, work and study commitments.
The scholarship will also assist finalist Harriet Brickhill, Wagga Wagga, with $1000 towards achieving her goals.
She is in her third year of study for a Bachelor of Agricultural Science at Charles Sturt University.
All three finalists have the opportunity to attend the Sheep Co-operative Research Centre and Sheep Genetics Service Provider Training in Melbourne in May.
An auction fundraiser during the presentation dinner raised $26,840 with another $16,000 donated from annual donors.
"The total of $42,840 raised this year shows the commitment for the scholarship, and enables more young people to be supported by industry mentors and experience networking opportunities within the sheep and wool industry,'' Ms Martin said.
The presentation dinner was held in conjunction with the MerinoLink conference at the Primary Industries Centre, Wagga Wagga.
Based on the theme improving the profitability of Merino enterprises, the conference drew more than 170 delegates and was supported by sheep industry trade displays.
Ms Martin said the conference acted as an information forum for youth, with the average age of attendees being 43 years and as young as 14 years.
She said the educational environment for youth spilled over into the next day when the 2014-2016 Peter Westblade Memorial Merino Challenge shearing was held at Wagga Wagga.
The challenge is Australia's largest commercial evaluation of Merino genetics, comprising 50 teams of wethers from commercial producers around the nation.
The teams are split into a wool and meat component.
Ms Martin said the range in wool values after this year's shearing was from $67 down to $37.
She said several Wagga schools and TAFE classes attending the two days of shearing, while an advanced shearer training school was also held.